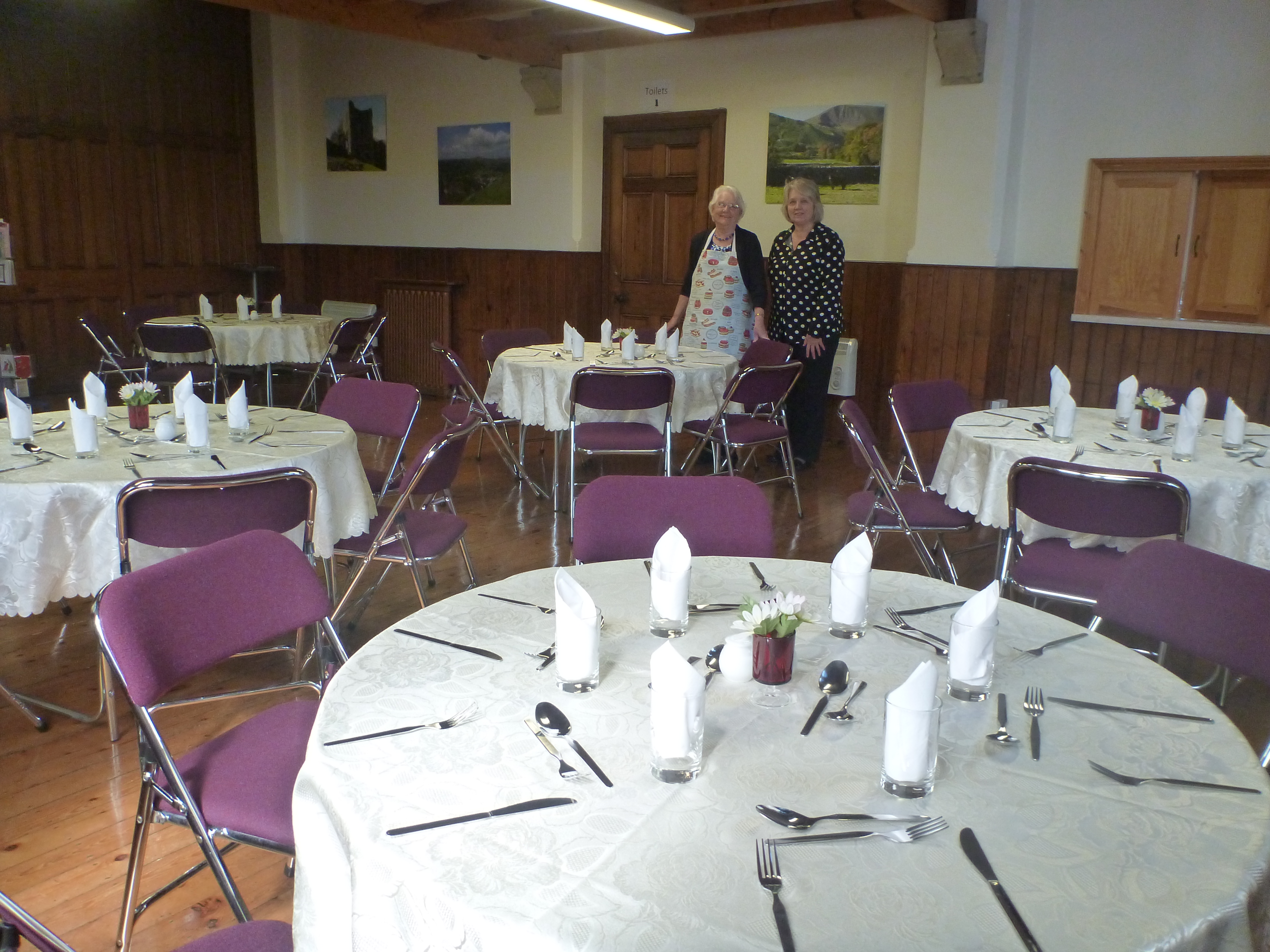 Although we are one big Cultural Community Venue that can be booked all together as the entire building for your event or occasion, in addition each room has it's own special character and usability and each can be used and hired seperately, as required. Or indeed in combinations. With special packages and rates available.
The tables and chairs can be laid out as you would like in each room.
The Peveril Room is 12m x 10.2 m and can accommodate 100 people sitting in a Theatre Style, 72 people sat down in Banquet Style, or 30 people sitting in a Boardroom style.
The Walker Room is 9.2m x 6m and can accommodate 50 people sitting in a Theatre Style, 40 people sat down in Banquet Style, or 24 people sitting in a Boardroom style.
The Wesley Room is 9.2m x 5m and is suitable as a break-out room, or as a creche, or a gathering place for small groups.
There are sofas and beanbags, coffee tables and a basic kitchen.
The Kitchen is fully equiped with industrial equipment and gas cookers and ovens, ready to cater to your needs.
The rooms are versatile and can change for whatever your requirements.
We pride ourselves on a helpful and efficient service and would like to hear from you on what you would like and how we can help.
We look forward to hearing how you would like to book our rooms ...
Disabled access to all rooms is available at The Peveril Centre via a lift from the lower ground floor.
On the ground floor is a disabled toilet and baby-changing station. Separate male and female toilets, which have been newly refurbished, are to be found on the lower ground floor.
Our Rooms
At The
Peveril Centre
Full of natural light The Peveril Room offers a warm and friendly atmosphere. With a newly installed projector and large screen, as well as blinds fitted to all the windows, it is now ideal for groups of all sizes to listen to talks or watch the visuals made possible by modern technology. The space is very versatile and can seat 100 theatre style and approximately 50 banqueting/cabaret style, but it can be adapted to cater for any needs. It has excellent acoustics, making it eminently suitable for choirs and concerts but is also regularly used for art exhibitions, craft fairs, away days and of course weddings and funerals. Other features include a PA system, microphones, loop system and display boards.
well-heated room with a polished wood floor, where a selection of round or rectangular tables is available. The room seats 40-50 at tables or 50+ theatre style - perfect for conferences, meetings, lectures and workshops. Facilities include a portable projector and stand, drop-down screen, flipchart and display stands. Having a hatch to the kitchen makes it an ideal venue for lunches, either sit-down or buffet style, and as a feeding station for outdoor events.
This room is on the lower ground floor with easy level access to outside. It offers space for a small intimate break-away room with comfortable sofas and coffee tables. Ideal for one-to-one discussions, small informal meetings or even as a creche facility. Currently also in use by after-school clubs and a teenage drop-in. With a dedicated kitchen area and comfortable seating it has a homely atmosphere. Facilities include a h-fi system, air hockey, pool and football tables.
This is a fully equipped modern catering kitchen capable of dinner service for up to 50 or buffets for up to 100. Use of the kitchen is included in the hire of any room and a wide variety of catering options is available from self -catering to in-house buffets or local professional caterers.
GREAT VENUE & BEAUTIFUL LOCATION
IN THE HEART OF
CASTLETON
VILLAGE
ALL TYPES
OF EVENTS
WELCOME
WE LOOK FORWARD TO HEARING FROM YOU ...